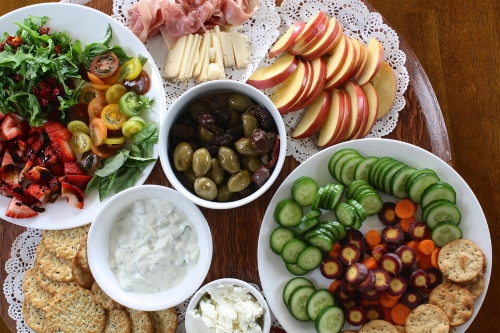 When the weather gets hot, it's helpful to have some delicious summer lunch ideas for entertaining at home. While the perfect backyard party might be the perfect way to enjoy the season, the last thing you want is for your food to make you more overheated.
Luckily, there are some excellent summer lunch foods you can turn to for a light, delicious meal. Here are some recipe ideas to inspire you:
Melon caprese skewers
Try a sweet and summery version of a caprese salad by adding watermelon, honeydew, cantaloupe and fresh cucumber. Use a melon baller to achieve a uniform size and shape, and skewer with fresh basil.
Turkey roll ups
Using a tortilla or spinach wrap, create a single turkey roll-up you can then cut into bite-sized pieces. One classic recipe involves smoked turkey, Swiss cheese, butter lettuce and red onion.
Salad rolls with peanut sauce
The cool, savory crunch of Thai-style salad rolls will leave you full but not overwhelmed during your summer entertaining. Wrap up carrots, bean sprouts, red cabbage, green onions and cilantro.
For dipping, whip up some delicious peanut sauce using peanut butter, rice vinegar, soy sauce and fresh garlic.
Mediterranean pasta salad
Combine all the flavors of your favorite Mediterranean dishes in a single, refreshing pasta salad. Cook up some orzo and toss with cherry tomatoes, green olives, artichoke hearts, cucumber and red onion. Add some fresh olive oil, herbs and feta cheese to complete the meal.
Chicken taco dip
While chicken tacos and fish tacos are both favorites for outdoor eating, why not make a fun, shareable version to eat with tortilla chips? Combine seasoned chicken, cheese, and layers of your favorite toppings like sour cream and guacamole. Customize this dish or make a vegetarian version by substituting beans for chicken.
These summer lunch foods can all be made in about a half an hour and taste delicious. Experiment with your favorites and enjoy your outdoor entertaining.